Cataracts are one of the primary ocular diseases eye care specialists look for during a routine eye examination. Drs. Millican and Bhula will evaluate your lenses each time he or she performs a comprehensive eye examination and follow the progression of your cataracts. When it comes time for surgery, we will determine which surgeon will best suit your needs, review all of your lens implant options and help you determine which implant will best suit you.
What is a cataract?

A cataract is a cloudiness that develops in the normally clear lens of the eye. The cloudiness usually worsens until it scatters or blocks the light trying to enter the eye. This results in your vision being dim, blurry, doubled or distorted. There are different causes of cataracts including age, diabetes, trauma and long term corticosteroid use. Most cataracts progress slowly over time and may take years before affecting your vision. If our optometrists determine that cataracts are causing any visual difficulty, they may recommend cataract surgery and refer you to an ophthalmologist.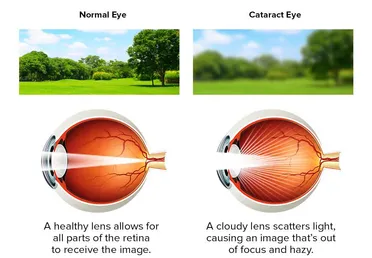 Cataract surgery involves removing the cloudy lens and replacing it with an artificial lens implant. There are three basic types of intraocular implants:

1) Standard single vision lens implant - this type of lens typically provides excellent distance vision and bifocals/progressives or readers may be needed for intermediate and near work. This is the most common type of implant. Some limitations include: glasses generally needed for either distance or near vision and sometimes both and do not correct astigmatism.

2) Toric lens implant-These implants correct astigmatism, a focusing problem caused by irregularly shaped corneas or lenses. Toric implants must be positioned precisely, and sometimes additional minor surgery may be required to optimize the outcome. Limitations include can only correct certain amounts of astigmatism and extra costs.

3) Multifocal lens implant- Multifocal implants offer the greatest likelihood of obtaining independence from glasses as they provide correction of more than one distance without readers or bifocals. Limitations include extra cost and additional correction with glasses might be required depending on your visual needs.




If you have been previously diagnosed with cataracts or suspect you might have them, call us for an evaluation today at 912-554-2007.